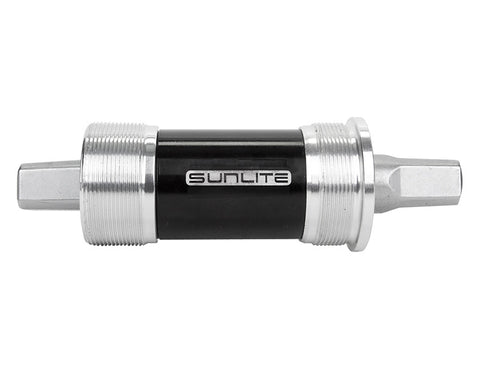 1411 - Bottom Bracket
Get the bottom bracket for your Hydrobike!
The bottom bracket sits in the center hub of the frame and connects the Crank Arms to the Hydrobike.  It has a spindle that the crank arms attach to, and the bearings that allow the spindle and the crank to rotate.
A special tool, sometimes called a 'spline' (we do not sell them, but are available at your local bike shop or online.  Search for 'BBT-22 B.B. TOOL') to install the Bottom Bracket.  The tool fits on a 3/8 ratchet driver.
Bottom Bracket Removal
Remove crank arms to expose the square tapered spindles of the bottom bracket.  Using the Spline, mentioned above, insert the tool firmly into the perimeter splines of the bracket on the left, (non drive) side of the bike frame. With a 1" wrench, or 3/8" socket driver, remove this non-drive side by turning counter-clockwise. This will allow you to remove a short placeholder piece.

Insert the tool fully into the splines on the opposite side. For this drive side, (side with chain) turn clockwise until you are able to remove the entire cartridge.
---
We Also Recommend